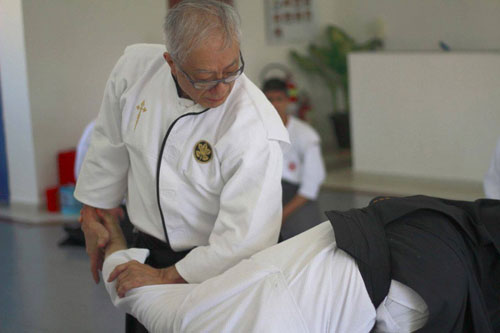 3rd International Seminar, November 17-19, 2017
With Roberto Maruyama Sensei, Aikikai 7th Dan
Aikido of Salt Lake is pleased to invite you to the 3rd International Seminar with Roberto Nobuhiko Maruyama Sensei (7th dan) of São Paulo, Brazil, Nov. 17-19, 2017. He will be accompanied by two 4th dan, two 3rd dan, and two 2nd dan students from Brazil. The Friday session will be held at Aikido of Salt Lake in downtown Salt Lake City. Saturday and Sunday sessions will be at the Unified Police/Salt Lake County Sheriff's Office Training Center.
Roberto Maruyama Sensei is the founder and leader of the Maruyama Institute of Aikido, which has 25 dojos training more than 800 aikidoka across Brazil. In 2015, the Maruyama Institute was officially recognized by Aikikai International (Hombu) for the promotion and dissemination of Aikido in Brazil. Maruyama Sensei has close ties to both Hombu Dojo and Masakazu Kitahira Shihan (8th dan). He served in the São Paulo Police Department from 1997 to 2015, and was Chief Instructor of the São Paulo Police Special Operations Group for 10 years, where he trained more than 100 police officers in self defense. Read More
Seminar Schedule:
Friday (1 session): 7:00 p.m. – 9:00 p.m.
Saturday (2 sessions): 9:00 a.m. – 11:00 a.m. / 1:00 p.m. – 3:00 p.m.
Sunday (2 sessions): 10:00 a.m. – 12:00 p.m. / 2:00 p.m. – 4:00 p.m.
Locations:
Friday:
Aikido of Salt Lake
132 South 800 West
Salt Lake City, Utah 84104
Saturday & Sunday:
UPD/Sheriff's Office Training Center
3365 South 900 West
Salt Lake City, UT 84119
Cost:
Entire Seminar: $80 ($70 pre-reg)
Fri. only: $35 ($25 pre-reg)
Sat. only: $60 ($50 pre-reg)
Sun. only: $50 ($40 pre-reg)
Pre-registration due Nov. 1, 2017
To pre-register please mail this form (download PDF) to:
Gerry Carpenter
1874 N. 725 W.
West Bountiful, UT 84087
For more information, email info@aikidosaltlake.com or call 385-245-3952.