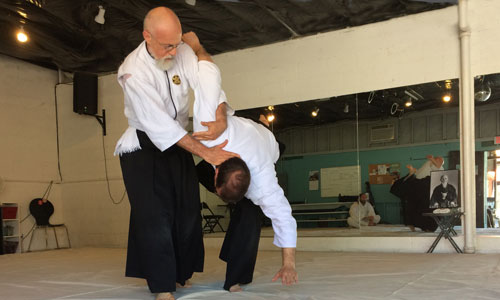 Training Schedule
All classes are held in the Robertson Studio at the Sugar Space Arts Warehouse, 132 South 800 West, Salt Lake City. See Map
Class Times:*
Wednesdays: 7:00 – 9:00 p.m. | Beginners
Thursdays: 7:00 – 9:00 p.m. | Advanced**
Saturdays: 9:00 – 11:00 a.m. | All Levels
*NOTE: Per the governor's "Stay home, stay safe" directive, we are continuing our temporary closure of the dojo for at least the next few weeks to help prevent the spread of coronavirus. We will reassess in mid-April to determine when regular classes can resume. Email info@aikidosaltlake.com if you have questions.
**5th kyu rank or higher
Observers are welcome anytime. Wednesday beginner classes are slower paced and focus on Aikido fundamentals. We don't currently offer children's classes, but youth ages 14 and up are welcome to join us with the permission of a parent.
We begin setup and warm-up promptly on the hour. If you arrive early, please wait on the patio or in the small house at the northwest corner of the property until class time.
Training Fees
The only cost to begin training Aikido is your time and commitment.
Our goal at Aikido of Salt Lake is to introduce as many people as possible to the Art of Peace. That's why we don't charge for our classes until you are ready to test for your first rank advancement (5th kyu). We require a minimum of 30 training days before you are eligible for testing, so the first few months are free.*
There is no need to purchase a uniform (dogi) until you have tested for your first rank advancement. A gray hakama may also be worn from 5th kyu and up with black hakama reserved for yudansha (black belt rank).
Once you have achieved your first rank, we invite you to help contribute to the dojo expenses according to the following fee schedule.
| | | |
| --- | --- | --- |
| | No Rank* | Ranked Students |
| One-time drop-in fee | $0 |  $10 |
|  Monthly rate | $0 |  $50 |
|  Student monthly rate | $0 |  $25 |
|  Six-month discounted rate | $0 |  $270 |
|  Additional family members | $0 |  +$25 |
Fees may be paid by cash or check at the dojo, or click on the button below to pay via PayPal. There is no contract required.