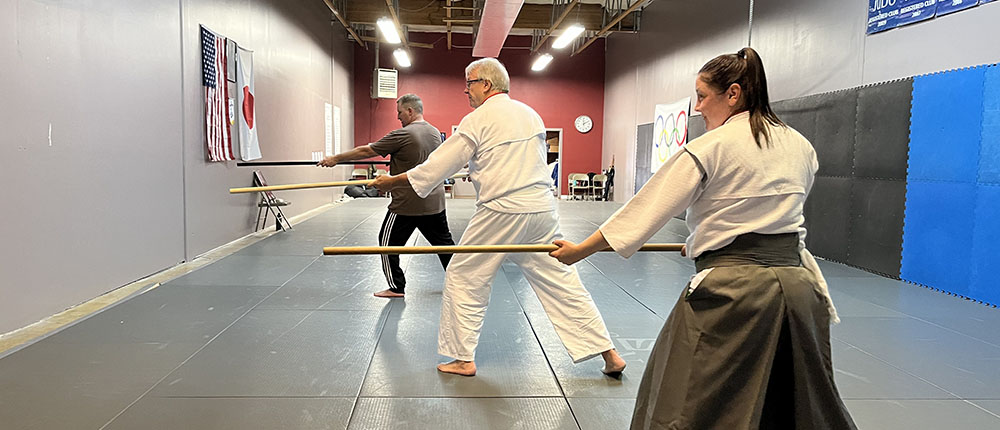 Training Schedule
Our dojo is located in the Tempest Business Park, 2212 S. West Temple #45, South Salt Lake, UT 84115. See Map
Class Times:*
Tuesdays: 8:00 – 9:30 p.m.
Thursdays: 8:00 – 9:30 p.m.
Saturdays: 12:30 – 2:00 p.m.
1st, 3rd (and 5th*) Sundays, 9:30 – 11 am (open mat)
Classes are 90 minutes in length and open to all levels from beginner to black belt. Observers are welcome anytime. We don't currently offer children's classes, but youth ages 12 and up are welcome to join us with the permission of a parent.
*There will be a bonus open mat session if there is a 5th Sunday in the month.
Training Fees
| | |
| --- | --- |
| First class | Free |
| One-time drop-in fee | $12 |
| Monthly rate | $60 |
| Student monthly rate | $30 |
| Six-month discounted rate (10% discount) | $324 |
| Additional family members | +$30 |
Fees may be paid by cash or check at the dojo, Venmo @Aikido-Salt-Lake or by clicking on the button below to pay via PayPal. There is no contract required.
There is no need to purchase a uniform (dogi) until you have tested for your first rank advancement. A gray hakama may also be worn from 5th kyu and up with black hakama reserved for yudansha (black belt rank).