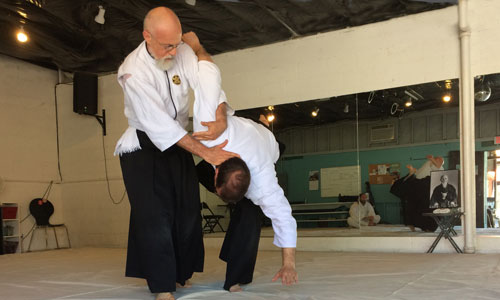 Training Schedule
Our dojo is located in the Robertson Studio at the Sugar Space Arts Warehouse, 132 South 800 West, Salt Lake City. See Map
Class Times:*
Tuesdays: 7:30 – 9:30 p.m. (hybrid class: dojo + Zoom)
Thursdays: 7:30 – 9:30 p.m. (hybrid class: dojo + Zoom)
Saturdays: 10:00 a.m. – 12:00 noon (hybrid class: dojo + Zoom)
* NOTE: We currently do not have any coronavirus restrictions for vaccinated students, however if you are not fully vaccinated you may want to wear a mask while training for your own protection. If you have questions about this policy, please email info@aikidosaltlake.com or call/text 385.245.3952.
Observers are welcome anytime. We don't currently offer children's classes, but youth ages 12 and up are welcome to join us with the permission of a parent.
Training Fees
| | |
| --- | --- |
| First class | Free |
| One-time drop-in fee | $10 |
| Monthly rate | $50 |
| Student monthly rate | $25 |
| Six-month discounted rate | $270 |
| Additional family members | +$25 |
Fees may be paid by cash or check at the dojo, Venmo @Aikido-Salt-Lake or by clicking on the button below to pay via PayPal. There is no contract required.
There is no need to purchase a uniform (dogi) until you have tested for your first rank advancement. A gray hakama may also be worn from 5th kyu and up with black hakama reserved for yudansha (black belt rank).