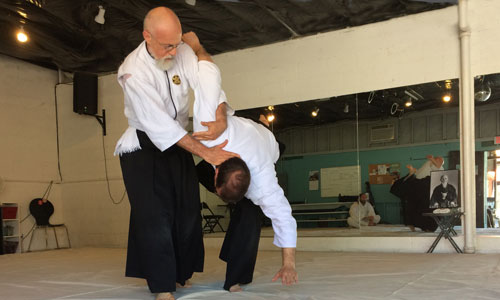 Training Schedule
Our dojo is located in the Robertson Studio at the Sugar Space Arts Warehouse, 132 South 800 West, Salt Lake City. See Map
Class Times:*
Tuesdays: 7:30 – 9:30 p.m. (Virtual only until further notice)
Thursdays: 7:30 – 9:30 p.m. (Virtual only until further notice)
Saturdays: 10:00 a.m. – 12:00 noon | Weapons training (in dojo as well as virtual)
* NOTE: We are reopened as of May 1 on a limited basis following the SL County guidelines for gyms, martial arts studios, and fitness centers. Saturday classes will be held-in dojo and virtually, while weeknight classes will be virtual only. Email info@aikidosaltlake.com for details.
Observers are welcome anytime. Virtual classes focus on Aikido fundamentals and fitness. Weapons classes focus on training the sword (bokken) and staff (jo). We don't currently offer children's classes, but youth ages 12 and up are welcome to join us with the permission of a parent.
Training Fees
| | |
| --- | --- |
| First class | Free |
| One-time drop-in fee | $10 |
| Monthly rate | $50 |
| Student monthly rate | $25 |
| Six-month discounted rate | $270 |
| Additional family members | +$25 |
Fees may be paid by cash or check at the dojo, Venmo @Aikido-Salt-Lake or by clicking on the button below to pay via PayPal. There is no contract required.
There is no need to purchase a uniform (dogi) until you have tested for your first rank advancement. A gray hakama may also be worn from 5th kyu and up with black hakama reserved for yudansha (black belt rank).