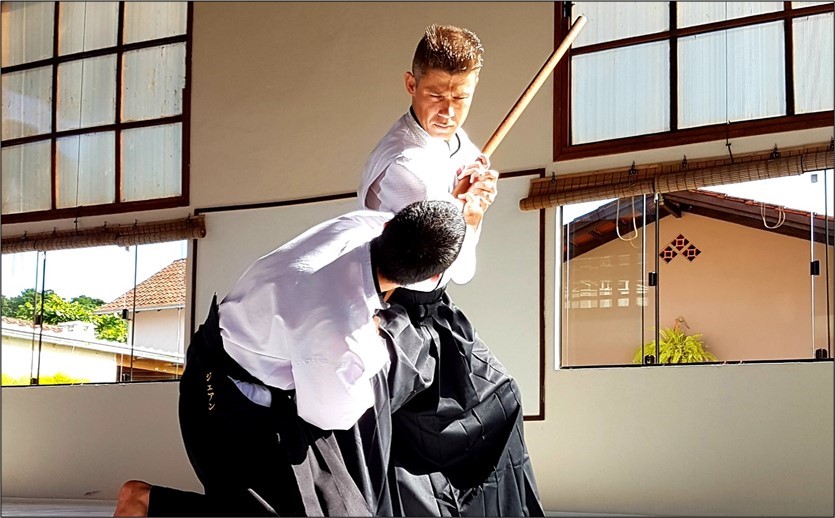 Marcos Tavares, Aikikai 5th Dan
Aikido of Salt Lake is pleased to invite you to the 4th International Seminar of the Maruyama Institute of Aikido. This year's seminar will host Marcos Tavares Sensei (5th dan) of Joinville, Brazil, Oct. 21-23, 2022. All seminar sessions will be held at Aikido of Salt Lake's new dojo in South Salt Lake, Utah.
Seminar Schedule:
Friday:
Saturday (4 sessions):
9:00 AM – 10:30 AM
11:00 AM – 12:30 PM
2:00 PM – 3:30 PM
4:00 PM – 5:30 PM
Sunday (3 sessions):
9:00 AM – 10:30 AM
11:00 AM – 12:30 PM
2:00 PM – 3:30 PM
Seminar Location (all sessions):
Aikido of Salt Lake
2212 S. West Temple #45
South Salt Lake, UT 84115
Directions: From I-15, go east on 2100 South to West Temple and turn right. Then turn west on Utopia Avenue and go back to the business park on the left. We are in unit 45 (look for our A-frame sign).
Seminar Cost:
Entire Seminar: $90
Fri. only: $30
Sat. only: $70
Sun. only: $50
You can also download the flyer and email or mail the form on the second page along with your payment to:
Aikido of Salt Lake
c/o Gerry Carpenter
1874 N. 725 W.
West Bountiful, UT 84087
Payment:
About Marcos Tavares
Marcos Tavares (5th dan) is the founder and president of the Tachibana Institute of Aikido located in Joinville, Brazil. He is a student of Roberto Maruyama Sensei (7th dan) of São Paulo, Brazil (Aikido Maruyama). In addition to teaching Aikido, Marcos Sensei provides training in healthcare worker safety, police and security defense, women's self-defense, and personal urban protection. He also serves as a volunteer firefighter.