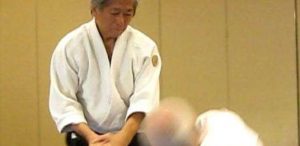 Jyushinkan Dojo will host James Nakayama Sensei (7th dan) at Utah State University in Logan, Sept. 7-8, 2018. Aikido of Salt Lake encourages you to attend and support this event.
The seminar will be held at HPER Physical Ed. Complex, Utah State University, 850 East 700 North, Logan, UT 84321. Pre-registration deadline is  Aug. 31, 2018.
Download the flyer for session times and fees.